Following my super last minute and yet a thoroughly enjoyable trip to Kyushu, I was yet again being given the last hour (that means not as bad as last minute) opportunity to shoot Hana's Seijin or 20th birthday. So one thing leads to another and I decided to do a 2-week long sojourn around the Kansai area that includes Osaka, Tenri, Kyoto, Kobe-Arima and Hiroshima.
The Transportation plan.
Going into Japan through Kansai International Airport or KIX is pretty simple so I would not go there in detail. However doing my research work moving around the region did hit some rather confusing information due to some mistranslation. So I make it a fairly short guide on what to get based on the latest information and my experience:
Get the Icoca MRT card. It is the same as Hong Kong's Octopus 八达通 card and Singapore's Ezlink MRT card that you can use on both bus and train services in Kansai. The area is primarily served by Kintetsu and JR trains and buses and the card can be used for both.
Get the Kansai ONE card, a special Icoca Card for tourist. Apparently, it has special offers for 150 shopping facilities and tourist spots so this is the one to get because it is on limited time offer. Besides the design is of Astroboy or Mighty Atom its original name by the late Osaka native Dr Osamu Tezuka so that holds a special meaning. Of course you can get the Wind and thunder Gods and the Hello Kitty card that I won't be caught dead using it. Remember when you order it from the website just put '0' (zero) for both the God and Hello Kitty designs so the train station staff will understand you want the special card (I was super confused with this arrangement at first and it took me some time to understand-I slow lah.)
Get the Haruka express train transfer along with the Icoca card. Yes it is a bit more expensive but it is much quicker than taking the limited express local trains. I have taken the Kintetsu train to the KIX before for my round Japan cruise and it is a very tiring journey as the service is pretty popular and you need to take care of the luggage too besides jostling with the crowd so this time round I opted for the Haruka and was glad I have some rest after and before the plane journey.
The only worthwhile JR Pass you should get in this area is the NEW Kansai-Hiroshima Area Pass. It covers the main stations of Kobe, Kyoto, Nara and Hiroshima. But most importantly, you have access to the Shinkansen service between Hiroshima and Shin-Osaka route that saved a tonne of time of travelling. The cost savings were immense as the pass with travels on the local trains along with the Shinkansen is definitely more costly if you buy them in Japan individually. For me personally, it also covers the Ferry ride from Miyajimaguchi station to Itsukushima, the temple with the floating Torri. Everything in at JPY14,000 per pax.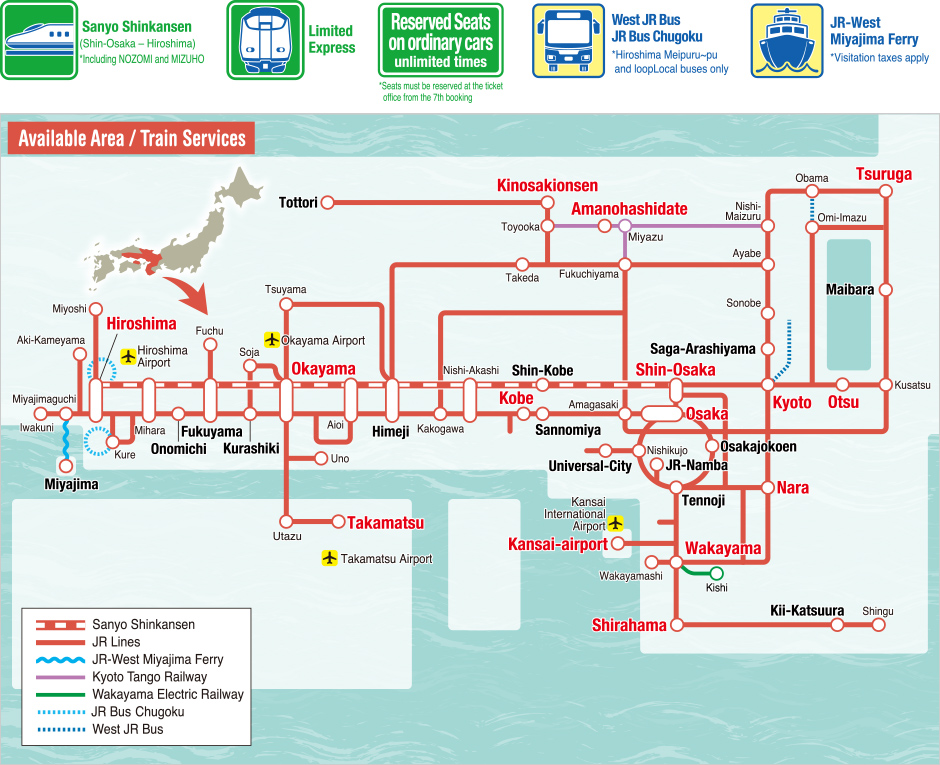 Collecting the tickets – Just get out of the main terminals and walk towards the train station entrance which is on the 2nd floor. At the office, go to the second floor to collect the passes. If it is closed for the night, join the Q on the first floor. Give about 45 minutes to an hour wait to collect because understandably the Q is fairly long as endless streams of tourists descended upon KIX. If you are travelling in a group, just get one representative to collect all the passports and get the passes.
Tip – you can delay train pass use. For example, I am not ready to use my train pass until I need to travel to Hiroshima via the Shinkansen bullet train. So I told the staff the date I am taking the Shinkansen and the pass's first used date will reflect that. That way you don't need to buy long day passes or multiple passes. Save a bit more by taking the local express trains. If the pass can cover your trip from and to the airport within the pass's effective date period, then you don't need to buy the Haruka ticket so do take note.
Where to Stay
If you really want the best connection, my suggestion is to stay right at Shin-Osaka station area. The reason is fairly simple. You can go to Kyoto, Nara or Kobe and be back to the hotel within 2 hours. If you plan to go Hiroshima too then the Shinkansen train at Shin-Osaka is also very convenient.
For my own experience, I stayed at the Hostel at Ikoma and Tenri with both easy distance to Osaka, Nara and Kyoto too but a bit inconvenient to Kobe and beyond. The cost savings staying at Hostels is worth the hassle IMHO and that shaved a lot of costs during my two-week stay. I heartedly recommend the Hana group of hostels. Fantastic place to stay and they have loyalty program too!
Communication Needs
It was used to be quite a hassle to get some Internet going. But now you have two choices. Rent a router at the airport and there are a lot of suppliers just outside the Arrival hall or buy a SIM card at home. In Singapore, there are people selling SIM cards on Qoo10.com and it is not very expensive. JTB is quite expensive if you ask me. If you have kids that will stick with you most of the time the router is the best solution. However there are adults travelling, then it is good to have cards for every person.
This is to facilitate communication during emergencies where everyone has split up to do their own thing. The best solution is to have both wifi SIM router and SIM card just in case the phone you have couldn't support the Japanese 4G system and is a good back-up up for the whole group as well.
Osaka 大阪 (Recommended Stay: 2 Nights)
Usually when it comes to Japan the very first assumption is that most would have is to visit Tokyo first. For me when it is Japan, I am perhaps more inclined towards a more intimate experience and Kansai, with its rich history such as Nara and Kyoto and a bustling city in the form of Osaka got my attention first as I can experience both sides of the country within one prefecture. This is not my first visit to Osaka and I had a pretty good impression during my last visit which was a bit hurried to say the list (with the tour operator not allowing us to extend the stay during our Japan cruise is a huge waste to be honest).
Did I miss anything going to Osaka first, the second largest city in Japan after Tokyo? I would say not a huge lot I supposed. I do however avoid huge crowds if I can help it and Osaka can give me a bit of that respite. Osaka nearly become the Capital city of Japan no thanks (or in this case more thanks) to Tokugawa Ieyasu shifting the capital to Edo (present-day Tokyo). I also love Osaka more because there are shopping for the missus and if I do want to venture, I can do street photography pretty easily too.
Of course, the main places to be in Osaka is Namba where you can visit the famous Dotonbori with its huge signages telling you exactly what food the stall is selling pretty easily. There is also Umeda station that has a bit more street shopping too. If you do want to be a tourist there are some attractions such as the Universal Studio and the Osaka Aquarium. Quite honestly if I have a day to burn in Osaka then Universal would be it. The Osaka Aquarium is now eclipsed by the SEA Aquarium at Sentosa (I kid you not).
Photo Shoot @ Arima 有马 (Recommended Stay: 1 Night)
Arima is actually an onsen town situated around 1-hour train ride from Kobe city. Treat it like a special weekend getaway from the hustle and bustle of the main cities. Then again, the place is getting crowded with tourists during the day but can be a very relaxing walk in the night as it is very quiet. There are small walkways you can explore and judging by the number of hikers I see descending on this small town, there should be a lot of mountain trails in the area.
If you are interested in the trails, safer to do it in summer so you got a lot of daylight for the trails. I suggest doing a one-nighter here to enjoy the place a wee bit and of course the onsen.
As I have mentioned, my good friend Sumie of Sumie Beauty Makeup Salon has teamed up with me to do a Kimono shoot with Hana to celebrate her 20th birthday (in short the Japanese regards 20 years old as adults now so it is a coming of age significance). We did a bit of traditional feel as well as some high fashion look. Check it out for yourselves. There are definitely more and will share in another post.
Tenri 天理 (Recommended Stay: Day visit/1 Night stay en route to Nara/Kyoto)
I actually know more about Tenri is through the Tenrikyo and more specifically because my father was a student at Tenri University and know people in Tenrikyo. I have gotten to know the group when I was little as there is a small church group (yes they call themselves a church instead of a shrine or temple) in Singapore. I didn't know much about Tenriism only until I did some research and then this pops up "Oyaganisama" or God the Parent. We as Christians know our God as Abba or Father so this did pique me but they also accept reincarnation. There are others very strikingly similar teachings between Christianity and Tenrikyo that I find intriguing but I leave that for more face-to-face discussion.
Unlike Shinto-ism and Buddhism, Tenriism is founded in the 19th century but how they conduct their 'service' is pretty much based on how Temples and Shrines conduct their rituals. Tenri is where you will see the HQ and the Tenri University. Tenri is really more of a University town and I did enjoy the ambience and the walk around town and the surroundings. This is where you can see a bit of how the locals live with farmland near the town and University.
Then there is Isonokami Shrine. This is the landmark on which father has to pass by in his morning runs during his Judo training in Tenri so naturally, this is the place to pay a visit when we are strolling through Tenrishi. Unbeknownst to most, Isonokami is one of the oldest Shinto shrines that holds historical artefacts. It is also situated on the northern end of the Yamanobe no michi, the oldest road in Japan. This is definitely a trail I want to do when I go back to Tenri again!
Kyoto 京都 (Recommended Stay: 2 Nights)
I guess by now Kyoto don't need much introduction so I will just talk about my experience. Kyoto if I want to say it is well spread out with the major shrines located in the East then the downtown core and Arashimaya in the West. Naturally, we stayed in the downtown core so we can get to places and have dinner. If you are new to the place, my suggestion is at least 2 night stay with 1-day focus on the shrines to the East, starting with Inari Shrine with the multiple torris in the Southeast and Ginkakuji in the Northeast. Along the way, you should visit the Kiyomizu-dera Temple but I suggest going by the 'back-door' method from Kiyomizu-gojo station rather than the more common and definitely crowded Gion-shijo station.
The next day visit Kinkakuji, Tenruiji temples and drop by the now famous bamboo trail in Arashiyama. And again, a lot of tourists made for the beeline to the Bamboo forest but I elected to go to the Togetsukyo bridge and walk along the river and enter the bamboo trail from the Torokko Station instead. I have lesser tourists vying for shooting spots and I actually got to the place where it is the nicest while still stay pretty fresh.
Kyoto has a lot of mountain shrines around the city area and that would be my plan next if I am going down to the again.
Hiroshima 広島 (Recommended Stay: 2 Nights)
Earlier, I visited Kyushu and Nagasaki. Going to the A-bomb memorial park and the museum is a must. And when you are in Kansai, do the same too in Hiroshima to have a complete picture of the Atomic bomb attacks by the United States. Like Nagasaki that has Gunkanjima Island, Hiroshima has Miyajima and the famous Itsukushima both to me are a must to visit.
Hiroshima itself, like Nagasaki are towns built by trade. It also has the same vibe as Hakodate and quite honestly all three made me feel like I am back in Melbourne. I must say the trams did make it feel so but Hiroshima is very much closer to that feel than the other two. The lack of overbearing crowd and beautiful open spaces is what attracts me to the place. I don't feel hurried and love the much slower pace but not to a tortoise crawl like Hakodate.
Ikoma 生駒 (Recommended Stay: Day visit)
I would never have know Ikoma if not for the hostel stay in the area. Perhaps due to the near to zero mention in all major tourist brochures most people would have missed it. The main attraction has to be the Hozanji temple up on Ikoma-san. Actually, that is to me one of the greatest find on this trip. On the way to the Temple, you get to see some nice mountain village that you can take a slow walk around. When I was up there, devotees are lining up to go into the temple to pray for luck in the coming year and there was a small fun fair beside the queue so it was quite an experience.
On Ikoma mountain is the Ikoma Sanjo Amusement Park. Quite honestly I don't get to see much views from the park itself because all around the mountain top are communication towers and so the view of Osaka was blocked. Perhaps I am not a local and didn't spend much time exploring so I don't know where to go for such a view. Definitely something to do if I am back in the area.
Nara 奈良 (Recommended Stay: 1 Night en route to Kyoto)
Nara is also very historical which is even older than Kyoto. I would say the town is pretty new and to really enjoy the place, a good walk inside Nara park is recommended. The place is famous for its deer population that has gotten very bold like the monkeys on Bali island. To most visitors, the national treasures are a novelty but it does wear off after a while. If you like to visit museums too this is the place to soak in some cultural artefacts of the area.
Bonus Round: Kobe-Sanda Premium Outlets
If you have a lot more time to do some shopping then Premium Outlet shopping is an option. There are basically two large premium outlets – Rinku and Kobe-Sanda. There are 3 smaller ones- Mitsui Outlet Park Osaka Tsurumi, Kishiwada CanCan Bayside Mall & Mitsui Outlet Park Marine Pia Kobe. I have been to Rinku during my last trip in and was not that impressed so either you have to go bigger or go somewhere it is unique. I guess for the sake of the ladies, I went for the biggest one – Kobe-Sanda.
There are a few ways to do this – either take the bus at Shin-Kobe station OR take the normal route that requires you to take a bus from Sanda Station. Because I misread the ticket, we missed the bus by mere minutes.
Very simply, take the train to Sanda station. Once you have arrived, go to the main road. You will pass by the Kobe Electric Railway Mita Line station and the Police post. Once you see the police post, turn left and you should see three bus stops. Go to number 10 and wait for 67. Take the bus all the way to Aeon mall where it is next to the Kobe-Sanda premium outlet. To go back, just return to the bus stop where you alight and wait for the bus that says 三田駅 or Sanda-eki. For Singaporeans, if you feel that the outlet looked familiar, it does…why? Because the Johor premium outlet has the same Pasadena design as the Kobe-Sanda.
Yes the place is bigger than JB's but the number of brands is still around the same. Bonus? I got a Coach bag at 67% off. Not bad leading the ladies to the shops.