After nearly 2 weeks of NX Traveller program using the 3 cameras – NX30, NX3000 and K Zoom – gives me a fresh perspective of the NX range of cameras.  Let me be clear too that Samsung has invited me to the trip but it does no one any favours including me if I am unfairly biased towards them.
I am writing here is to give everyone a fair view of what I have went through using the cameras during the trip in Melbourne so that things done great can be maintained and any shortfalls can be rectified for the good of Samsung's NX Camera supporters.
Good Camera and Travelling Light- The Twain Shall Not Meet?
When it comes to cameras for travelling, the first thing that most people would think about is the weight issue. I think for most professionals, having that weight with DSLRs and the f2.8 lens of various focal lengths (or zoom) is a given since we need to produce tip top images for clients.  But for the average persons who are travelling with young kids and the older folks, weight is a real issue.
That explains the deluge of interest in mirrorless cameras that people would want cameras to change lens for various  shooting situations while travelling which we do have while doing our rounds in Melbourne.
Contrary to what people say about Travel Photography, this genre of photography includes basically all, if not, most of the photography genre that one would encounter:
Landscape Photography
Environmental / Street Portraiture
Portraiture
Street Photography
Food
Event
Fireworks
Night photography (includes Astrophotography)
Selfies/Wefies/Group Photo
When one says 'travel photography', it is not the typical group photos alone but much much more. A good set of travel photos should have all the above to document the trip as much as possible. After all, photos are the ones that brings memories to the event itself.
With so many types of possible photo opportunities in one place, especially in places that has Urban, Suburban, Country and Nature sites such as Victoria. The demand for flexibility and image quality from a camera system is certainly high.  If that's the case, the number of lens needed to bring would certainly impact the weight in general.
Here's are products I am to use. The Samsung NX Mini was requested by me as it was a new model but the NX3000 was introduced to the market just prior to the trip and so to ensure that the latest stuff was tested, I decided to drop the NX Mini to be tested at home and the rest brought to Australia.
When I do a photo trip, I would ensure I have backup cameras and both cameras can share the same set of lens, in this case the NX lenses.
Since we are also in need of a phone, then the Galaxy K Zoom (in other words a camera that has smartphone functions) takes a space in the bag too. However in fairness I won't review this unit as it was said to be a pre-production sample unit.
*Note: contrary to popular belief, we reviewers don't get to keep any of these items. Even if you see us owning the items, that means after review we like the items so much we get it with our own hard earned money. Receiving and keeping the items after review can be seen as a form of 'bribery' and does no good to our reputation as reviewers and to the publication we represent. After all would you trust a judge that accepts bribes?*
With some help from a good friend, I managed to get a telezoom, 30mm prime, 16mm prime on top of the standard 18-55mm zoom that comes with the camera. There was also the 16-50mm motorised zoom lens that comes with the NX3000 but I choose the 18-55mm kit lens over that as I prefer manual Zoom for that quick reaction if there's a need.
During the trip I have access to fish eye lens too and other faster lens but decided to keep to the kit lens or small primes to reflect light travel usage pattern for most users. This way I can also maximise the potential of the system using consumer lens as much as possible.
That said, everyone are entitled to choose whatever lens they want to bring as the shooting situation will be different for each and everyone. In this instance I use weight and image quality as the main criterion as that is what I think people who is reading this is really looking for. And to see if having light camera system would automatically mean bad pictures.
Samsung NX30
I will start with the Samsung NX30 first. This is the camera that is the main camera for the NX traveller program and rightfully so since it is the flagship model for the NX series at the moment.
The specs:
20.3 MP Effective APS-C
Lens based OIS
Super AMOLED Rear Touch Panel with swivel at 320 x 480 pixels 460.8k dots
Tiltable EVF (Like how you would shoot with a Twin Lens Reflex camera)
Hybrid Focusing AF with both Phase and Contrast detection
9 fps capture in JPEG (that means shutter speed must be at least 1/6 s to utilise this)
This is the camera that closely resembles a DSLR and yet is as light as most mirrorless cameras. Most controls are within good reach. As with most cameras I review, I start with P mode and then try accessing exposure compensation and then to full manual mode along with Exposure Metering method (spot, average, multi). White balance would be next as AWB don't work especially when one is indoors.
From that perspective in mind, if one is shooting in P, A and S modes, the EV button and the front wheel can change EV (+/-) pretty easily though I prefer the buttons to be bigger. However when it comes to full manual mode, the rear wheel is a bit too low for a more comfortable change of settings and is next to impossible to change the settings when gripping the camera with the right hand. On this alone Samsung should look at why the big guns DSLRs has designed their control mechanism as such.
Ansel doing his round with me. Shot with NX30 at ISO3200 at 18mm using f5.6. The OIS and ISO did their job pretty well so I didn't push the aperture to f3.5. 
Using the 50-200mm f4-5.6 also at ISO3200 f7.1 1/800s. Need a bit of depth to ensure the Flinders Station clock tower can be seen and the foreground group of shooters are sharp. The telezoom compress the scene and make it more interesting shot.
Shot with the 18-55mm f3.5-5.6 kit lens. The camera did well to balance the white balance colours of the yellow tinged halogens and the sun light streaming through the windows. Skin tones is a tad better than when I first encounter the NX cameras which is a good thing.
Testing the 16mm f2.4 prime lens. Bokeh wise not as creamy but has thrown other subjects off focus well enough to get the flowers in the middle the necessary focus.
Shot this without a tripod. That is what a good grip with a good EVF can do for you. I employ the use of the bridge's hand bar to get more stability out of the shot. Use with a faster SD card such as the Sandisk Ultra so that when doing fast continuous shutter, the EVF won't blank out for too long. In the case the EVF refresh fast enough for me, thanks to a fast buffer and a fast card, to time the shutter to the bursting flame. With 18-55mm f3.5-5.6 lens at ISO1600, f3.5, 1/20s 19mm focal length.
I shot this in colour and the picture has enough data to render it well in mono. I have only that small window of opportunity to shoot this through the helicopter's cockpit window so am glad the focusing mechanism worked well. The picture is post processed in Photoshop boosting the contrast and then do a bit of dodging to the skies to darken it and get more details. This has become one of my all time favourite shots.
The shot that won me a prize. ISO 1600, 10mm f3.5 (Fish Eye) 30s. Under extreme cases such as this, the ISO noise is a tad worse off than the NX3000 but can be 'rescued' in post editing. However when I test cameras, I always showed pictures in JPEG so one can determine how good the image processor has performed without further processing.
I have gone a bit lazy when it comes to Panoramas partly because the Pano function in the cameras have become very good in recent years. There are still hits and misses though but when it hits, the result is like the picture above. It will improve eventually.
Samsung NX3000
Unlike the NX30, the NX3000 is designed more with the average consumers in mind and so the camera body is more towards compact camera controls. Unlike the NX30, the NX3000 also did not have a touch screen so settings took longer than usual to change. Perhaps because of this, I use the P mode more often and if I do use the creative modes (A,S & M), they are fixed throughout the shoot like the milkyway pictures done over at Cape Schanck.
Some specifications:
Tiltable rear screen to forward facing for selfies (and super useful and no more guess work! Selfie stick FTW!) @ 720 x 480 1037k dots. In comparison is may not be as flexible as a full tiltable screen like NX30 but sometimes lesser movements means lower maintenance.
20 MP Effective APS-C
Lens based OIS
Control mechanism aside, the image quality seems to be a bit better in the NX3000 with a more natural skin tones and better ISO noise control and/or eradication. Moreover it has that flip over screen and automatic function that is on the NX Mini perfect for a lot of Selfies/Wefies. And it is light enough to be put on a selfie stick along with a fish eye lens to capture unique images.
As it is designed around the consumer mirrorless bodies, the NX3000 does not have a built in EVF and so stable shots will almost always require the use of a tripod.
The first few shots off the NX3000 and I was pleasantly surprised with the improvement in terms of facial tonal colours even under very challenging lighting situations such as the Queen Victoria Market as above. The sharpness is also very good. Not overly done and it looked natural as well.
Check out the natural red of the pepper. It has that punch but not to the point it looked over processed. 
Again good handling of both outdoor and indoor lighting conditions and a likeable bokeh rendered at f2.4 using the 16mm wide prime over at Naked For Satan at Fitzroy. Am starting to like the Samsung primes a lot.
Street shot at Degraves Street with its numerous cafe littered in the alley ways between Bourke and Flinders. Again the sharpness and colours shines through.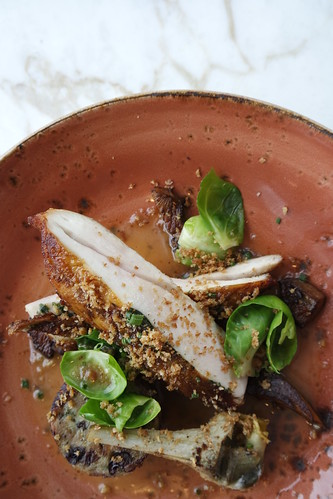 The Chicken at Taxi Kitchen looked extra delicious here. A tad over exposed but the clarity shine as though the crispiness of the vegetables can be seen.
The Gnocchi. The herbs and cheese shavings are very well defined here. The burnt brownish orange-yellow part of the Gnocchi are well rendered too. White balance and colour are accurate.
The Pots Ceiling at Gazi Restaurant. The yellow is at least not that gaudy like some consumer cameras even after some white balance changes were made if not, the cameras over correct. So the NX3000 did win some points here.
This is perhaps one of the best shots taken with the sun coming in from the windows and yet details in the shadow, the bright red colour and the lens flare through the water droplets are something you would expect from a more expensive camera.
Normally I would stop at ISO 1600 for Milkyway shots as most sensors are notoriously bad beyond that. But this was shot at ISO3200 at 30s at f4 so I could force the camera to have a bit more details out, taking advantage of the 1/3 moon light aft of the camera. The noise is actually very acceptable and a little bit of noise reduction in post will make this picture shine even more. Again, I let the camera images do the talking here.
This was shot at ISO1600. Slightly lesser details but enough to give the sense of awe. At this point I did try using the NX30 but it didn't turn out as nice so I just concentrated on the NX3000 since I set it up for the shoot. This was shot with the fish eye lens too.
Not a flash in sight. Just reflected sunlight into Union Lane and this is the result! Used with the old 30mm f2.2 prime.
Using the NX3000 pano function along with the 10mm f3.5 fish eye lens. The result is a mind blogging effect perfect for the graffiti art along the lane.
Really nicely rendered at 10 seconds with ISO 200 f14 using the fish eye.
Verdict
NX30
The NX30 can do most things that get thrown at it with the right type of lens. As this resembles the DSLR the most, the handling is much better than the NX3000.
The uniqueness of the NX30 is the EVF that can be pulled out and enables one to shoot the camera like a twins lens reflex (TLR) camera so one can adopt a shooting position and shoot from the floor's perspective for example.
Focus for the NX30 tends to be a bit less assuring than the NX3000 which is odd. Although not as bad as the Fujifilm X100 when it first came out, touting a hybrid focusing system and yet don't feel as fast somehow doesn't sit well with me. This is something to look into.
From the looks, the NX30 is aimed at users who knows what they are doing and require quick access to certain settings. Yes the settings are now easier to access but changing them is another matter altogether. One could get used to it or some after trying them in the shops may not like it and skip it altogether. Definitely need a rethink.
Otherwise the Image Quality with the right lens do take allow the NX30 to take some very nice shot.
NX3000
This has turned out to be the surprise package for the whole trip as I betting with myself that I would use the NX30 more we got on the trip but that didn't happen.
Since Samsung NX Mini, I have noticed that the colour management and ISO control has improved much so I put it as new technology and new algorithm at work here. Although it is not as easy to use as the NX30 and it lacked the touch screen, once you get those little bits of irritation off your system it is a very capable camera (and it can take good selfies too!)
In view of that, if the NX40 has improved its ergonomics and user interface and coupled with the sensor/processor implementation done on the NX Mini and NX3000, they may have a winner in the future.
These two cameras and 4 other lenses can easily be housed in my Lowepro Passport Sling camera bag. It is not the largest bag but for it to hold 2 camera bodies with 2 attached lens plus another 3 more lenses on standby is a breath of fresh air when it comes to travel photography. Not just size wise, weight wise it was much lighter than equivalent DSLR gear and even some of my mirrorless gear.
Of course there are things that needed to be looked into and they are serious gaps. For example in Singapore market, the NX system's shutter release triggers and flash units are not readily available. Why odd? because having a shutter release and an external flash are two fundamental additions to a camera system (the other is a good tripod).
Yes one can somehow pirate another shutter release from another camera or put a flash under manual mode to work with the NXs but seriously a brand that is supposed to be serious in providing the necessary equipment for their customers must have at least the basics and that includes availability of the lens as well. If the shops don't sell the lens, at least set up an online shop to let customers order and collect it somewhere.
Ever wondered why there's not much fireworks shots using the NX system in Singapore? It is because there will often be people who won't go the extra mile in getting the equipment they need if it is not readily available. Either they don't buy the camera or if they do, they won't shoot shots that will convince other people about the performance of the system. Both outcomes won't help the manufacturer at all.
The thing about a system that is consumer-centric can be myopic in a lot of ways. In the normal sense of things, if a customer buys a camera system, then it is good that the customer is fully supported throughout his or her photographic journey. The thing is that a system should grow and help its user to accomplish more as his or her knowledge into photography has graduated from amateur to serious amateur or even professional.
Although I agree Nikon and Canon may have cornered the professional market almost exclusively, there are other manufacturers such as Fujifilm and Olympus that are meeting needs of semi-professionals or even professionals that shoot exclusively on mirrorless systems. The mirrorless systems has come very far in a very short time. I myself have shot professionally with mirrorless as well if the circumstance and customer needs can be met. So it can be done and done well.
The moment a brand thinks that they can only be consumer centric, it automatically places the brand at a disadvantage. The consumer who buys the camera system may someday be a serious photographer and some I knew even shoot freelance too. If that's the case, no one would buy a system that would automatically disadvantage themselves (for example, event photography would need an external flash or have good f2.8 lenses at their disposal).
At least Samsung has improved the NX system in the last couple of iteration which is heartening to say the least. Even their old prime lens have performed remarkably well especially with the newer NX bodies. They can win new fans but they need to keep their fan base happy to help the brand to grow further and gain economies of scale quickly and make the system's lens even cheaper and gain greater acceptance.
Time to look at the NX System offering as a whole instead of being piecemeal about it. At least there is now the smartphotography.asia website to band Samsung NX camera users together so NX owners won't feel so isolated.
Let's hope for better things to come.